NYHENDE
TA153 Vegar Vårdal
Ukvessa slåtter
Ukvessa slåtter frå Vegar Vårdal. Ein improviserande tradisjonsmusikar med suveren dansetakt og leikande melodiføring, busett i Vågå, men med tradisjonar frå fleire plassar i landet.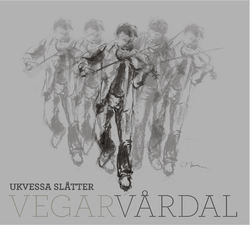 Vegar skriv sjølv: /
Dette er et prosjekt jeg har tenkt på lenge, men ikke turt å
gyve løs på før nå. En plate med solo fele, nakent og nesten
litt påtrengende, er skummelt. Jeg har tatt tak i mine toner
fra barndommen, oppveksten og utdanningen min i Bærum,
Rauland og Oslo, og speller slåttene så ukvessa jeg bare kan,
uten følge fra mine gode musiker kolleger og uten at jeg har
arrangert slåtten. Litt egen farge gir jeg dem, men jeg prøver
å bruke formene jeg lærte fra mine læremestre. Tre av mine
beste feler er i bruk, og to av mine kuleste buer. Tor Magne
Hallibakken sitt gamle flygel kom til sin rett i en rolig låt på
slutten av plata, og ellers er det pust, rop og hoiing fra meg
dere hører.
Plata viser mine første møter med folkemusikken, møtene
og slåttene som sitter livet ut. Pappa, Dag Vårdal, samlet inn
slåttemusikk fra både Vest-Agder og Nord-Norge. I en år rekke
samarbeidet han med Egil Bakka om å samle dansetradisjonene
fra disse distriktene i tillegg til å finne turdanser og turdansmusikk
fra hele landet. Pappa startet to spelemannslag,
henholdsvis Vestvågøy Spelemannslag og Agder Folkemusikklag.
Mine første spellemannspenger fikk jeg i Sverige av
noen entusiastiske dansere for å spelle en liten reinlenderstubb
fra Vest-Agder. Jeg er blitt dysset i søvn med fugleskrikene
fra Havella, og jeg har hørt på uendelige utredninger
og foredrag om de mest obskure spellemenn og de rareste
danseformer på denne jord. Så det er kanskje ikke rart at jeg
fremdeles har mitt hjerte nærmest Agder og Nord-Norge?
Her får dere et lite utdrag fra min barndom og min oppvekst
slik jeg ser den nå. God fornøyelse.
vegar vårdal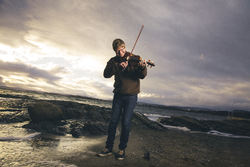 This project has been on my mind for a long time
, but I have not
dared to delve into it until now. A record with solo fiddle, all alone
and almost intrusive, is scary. I have reached back to tunes from my
childhood and formative years as well as from my education in
Bærum, Rauland and Oslo, playing the tunes as rough as I can manage.
I did this without support from fellow musicians and without
arranging the music. I do provide some personal coloring, but try to
use the version taught to me by my masters. I use three of my best
fiddles, and two of my coolest bows. The old grand piano in Tor
Magne Hallibakkens studio contributes in a quiet tune at the end of
the record, while the rest of what you hear is my breathing, shouting
and hollering.
This record presents my first folk music encounters. These encounters
and the music will stay with me through my life. My father,
Dag Vårdal, collected folk music tunes both in Vest-Agder and in
the northern part of Norway. Over many years he collaborated with
Egil Bakka to collect traditional folk dances from these areas, as well
as documenting traditional couple dances and it's music from all
over Norway. My father initiated two folk music ensembles;
Vestvågøy Spelemannslag and Agder Folkemusikklag. I received my
first fiddler's pay in Sweden after playing a short reinlender from
Vest-Agder for a group of enthusiastic dancers. I have been lulled to
sleep by the bird singing in the waltz Havella, and I have listened to
an eternity of presentations about obscure fiddlers and strange dance
forms. So it may not be surprising that I still keep Agder and northern
Norway closest to my heart. I present you with a part of my
childhood and my adolescence as I see it now. Enjoy!