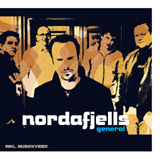 General
TA17CD Nordafjells
Nordafjells er etter vår meining blant landets beste gamaldansgrupper, fordi ... dei kombinerar den tradisjonelle runddansen frå Oppdal og Gudbrandsdalen med moderne humor og glitrande samspeleigenskapar. CD-en deira inneheld også ein fantastisk musikkvideo, laga av Pål Bratås.
Plata General vann Folkelarmprisen 2005 for beste gruppe og er nominert til Spelemannspris 2005!

From Oppdal and Lalm in Norway, this fine quartet is playing traditional dance music with new energy, verve and a bit of humor. There's no fusion or flash, just solid musicianship offered for the simple joy of playing the tunes. A short bonus video shows off that humorous side. Winner of Folkelarm 2005 Award.