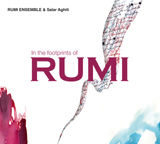 In the footprints of Rumi
TAW05 Rumi Ensemble
In 2007 the world celebrated the 800th anniversary of the birth of the great Sufi poet Rumi. Hundreds of years after his death, the poetry of Rumi still speaks to the hearts of people like never before and his poems are read all over the world.
Javid Afsari Rad Santur, Composition
Javid Afsari Rad from Esfahan, Iran, has composed music which transfers the thoughts of Rumi to music through an ensemble consisting of the foremost Iranian musicians and a Norwegian string quintet.
Javid Afsari Rad was born in Isfahan, central Iran, in 1965. His mentor on the santur, a traditional Persian instrument, was Saeed Naeemi Manesh. Later he was introduced to Radif, the Persian classical music repertoire, by the masters Parviz Meshkatian and Faramarz Payvar. His studies led him to Norway, where he graduated from the University of Oslo in the fi eld of Musicology.

As a musician and composer, Javid is highly inspired by the mysticism in Rumi's poetry. Rhythm is a vital element which refl ects the ecstatic philosophy of the sensually divine thirteenth century poet Rumi, and Javid's compositions are an endeavor to honor and communicate the great vitality and energy seeping out of Rumi's mysterious poetry.

Together with the ney, percussion, oud, string quintet, and vocals, Javid creates masterful performances with his fellow artists, ranging from soft heartfelt moments to the exhilarating joyful state of musical enchantment pivotal to the Sufi 's dance.

Salar Aghili, Vocal
Salar Aghili was born in Teheran/Iran in 1977. He is regarded as one of the foremost Persian classical vocalists in his generation. He has studied under the guidance of Sediq Taarif and has adopted the old tradition of the vocal repertoire combined with the skillful and delicate style of master Mohammad Reza Shajarian.

As a young and distinguished vocalist he has gained attention both in Iran and abroad and this has led him to collaborate with renowned musicians, composers and ensembles in and outside of Iran. He has performed in many well known music festivals and music scenes all over the world and has released recordings in Iran and Europe.
Rumi Ensemble
Javid Afsari Rad santur
Pejman Haddadi tombak and percussion
Reza Samani daf and dayereh
Davood Varzideh ney
Shahram Gholami oud
Berit Cardas violin
Elisabeth Lie violin
Gro Løvdahl viola
Emery Cardas cello
Marius Flatby double bass

Poems by Rumi
All music composed and arranged by Javid Afsari Rad

Recorded and mixed at Rainbow studio Oslo, by Jan Erik Kongshaug
Photo by Kamran Dolati at rainbow studio
Artwork by Maryam Abtahi
Graphic design by Eva Karlsson

Info: www.rumiensemble.com

This project is supported by:
Arts council Norway, Akershus Fylkeskommune, Musikerenes Fellesorganisasjon, Norwegian Hub for Traditional Music and Dance