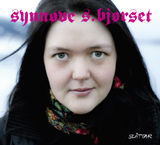 synnøve_digipak_DA1X12XX Eva Karlsson
Slåttar
TA77 Synnøve S. Bjørset
Rein kraft, suggererande takt – slåttar hogd ut i stein.
Norges frekkaste hardingfeledame slår til med ny plate fullspekka med kompromisslause hardingfeleslåttar blotta for jåleri. Rykande fersk gamal musikk. "SLÅTTAR" er ei smakfull samling av ukjende slåttar og nye tolkingar av gamle slagerar frå Sunnfjord, Sogn og Valdres.
Aftenposten: Spillet er vilt, medrivende og oppfinnsomt

GD: Frakk hardingfele: Her svinger stemningen brått fra fandenivoldsk driv til stillferdig melankoli

Østlendingen: Tøff hardingfele

Hamar Dagblad

Hits som Fanitullen, Tomasklokkene og Storren er sjølvsagt med. Heile 6 ulike felestille er i bruk, og gjev plata stor variasjonen i klangar og stemningar. Spennet er stort; frå dei villaste danseslåttar til dei sartaste lydarslåttar.

Synnøve S. Bjørset frå Jølster gav ut si første soloplate i 2001, og har sidan medverka på ei rekkje plateutgjevingar. Til dagleg arbeider ho som frilansmusikar, produsent og komponist, og ho kan vise til utstrakt turnéverksemd i inn- og utland både som solist og i grupper som Majorstuen. Ho har motteke ei rekkje prisar og stipend for musikken sin, og for tida har ho 2-årig arbeidsstipend frå Statens kunstnarstipend.

Plata er innspelt i Ålhus kyrkje, Jølster, med Bjarte Johansen frå bLyd som teknikar og produsent. Utgjevinga er støtta av Norsk kulturfond, Fond for utøvende kunstnere, MFOs vederlagsfond, Rådet for folkemusikk og folkedans, Indre Sunnfjord Spelemannslag.
Pure power, strong beat
Pure power, strong beat – tunes carved in stone. Synnøve S. Bjørset ranks among the foremost performers of traditional Hardanger fiddle music today. With uncommon strength and spirit, she now presents a tasteful, melodious collection of little-known tunes and reinterpretations of familiar standards. The traditional tunes are rooted in the fjord and mountain regions of Sunnfjord, Sogn and Valdres, areas where dance tunes and airs go hand in hand.
Many of the tunes are based on simple melodic structures, which Bjørset attacks with her own brand of ferocious Hardanger fiddle minimalism. Building on archived transcripts and recordings, she has developed a uniquely individual style that accentuates the rhythmic nuances of the music. The album, which naturally includes classics such as Fanitullen and St.Thomasklokkene, has Bjørset playing a wide range of scordatura tunings. The album was recorded in Ålhus church in Bjørset's native district, Jølster, the mighty acoustics of the old timber structure providing an excellent framework for the Hardanger fiddle's crisp, full sound and abundance of harmonics. Bjørset released her first solo album in 2001, and has since then participated on numerous recordings. A full-time freelance performer, she has toured extensively at home and abroad, both as a solo performer and with groups such as Majorstuen. Over the past few years, her performances have won her a string of awards and scholarships.